The Mission of P.A.S.S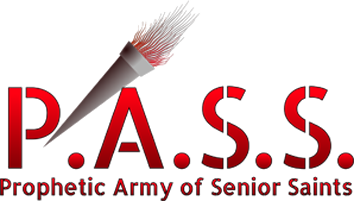 P.A.S.S. Home | Mission | Method | Message | Basic Training | Daily Regimen | First National P.A.S.S. Conference
Prophecy Today | PTRN | School of Prophets | Prophecy Bookstore | Joshua Travel | About Dr. Jimmy DeYoung
The Mission statement of P.A.S.S. can be found in 2 Timothy 2:2.
"And the things that thou hast heard of me among many witnesses,
the same commit thou to faithful men, who shall be able to teach others also."
The Mission of P.A.S.S. is fleshed out in Titus 2.

But speak thou the things which become sound doctrine: That the aged men be sober, grave, temperate, sound in faith, in charity, in patience. The aged women likewise, that they be in behaviour as becometh holiness, not false accusers, not given to much wine, teachers of good things; That they may teach the young women to be sober, to love their husbands, to love their children, To be discreet, chaste, keepers at home, good, obedient to their own husbands, that the word of God be not blasphemed.
Young men likewise exhort to be sober minded. In all things shewing thyself a pattern of good works: in doctrine shewing uncorruptness, gravity, sincerity, Sound speech, that cannot be condemned; that he that is of the contrary part may be ashamed, having no evil thing to say of you. Exhort servants to be obedient unto their own masters, and to please them well in all things; not answering again; Not purloining, but shewing all good fidelity; that they may adorn the doctrine of God our Saviour in all things.
For the grace of God that bringeth salvation hath appeared to all men, Teaching us that, denying ungodliness and worldly lusts, we should live soberly, righteously, and godly, in this present world; Looking for that blessed hope, and the glorious appearing of the great God and our Saviour Jesus Christ; Who gave himself for us, that he might redeem us from all iniquity, and purify unto himself a peculiar people, zealous of good works.
These things speak, and exhort, and rebuke with all authority. Let no man despise thee.

The Need of the Mission:
The vast majority of churches today are not teaching Bible prophecy.

Having an accurate and fuller understanding of prophecy gives the Christian hope, and encourages a closer walk with God.

We are just one generation away from the world being without a voice for an accurate view of Bible prophecy.

Since you will be making decisions today that will affect tomorrow, you must know today what will happen tomorrow.
Everyone has a worldview, how we see and understand the events in our world today. Therefore we must have a proper biblical worldview to understand why our world is acting as it is today.
Why Study Bible Prophecy?

It is Profitable.

It comprises at least 25% of scripture.

2 Timothy 2:15, 2 Timothy 3:16

It is Proven.

There are over 1,000 prophecies in the Bible. Of those, 500 have been fulfilled. The fulfillment of the other 500 is just as sure as those that have already come to pass.

2 Peter 1:19

It is Practical.

Just as practical as discerning the daily weather.
Matthew 16:2-4

It is Purifying.

Knowing that Christ can return at any moment makes every moment count.
1 John 3:2-3

It is Promised.

There will be an eternal reward for students of prophecy.

2 Timothy 4:8, 1 Peter 5:1-4, Revelation 1:3
ADVANCE, SOLDIER!
Take the Next Step!
Sign up for our mailing list to receive updates, and to get your free class in our School of Prophets Institute. "Like" us on Facebook to get instant updates, and to interact with other P.A.S.S. members. And check out our Daily Regimen and get started in your training today.
P.A.S.S. Mail Call
Sign up for a Free SPI Class

P.A.S.S. Home | Mission | Method | Message | Basic Training | Daily Regimen | First National P.A.S.S. Conference
Prophecy Today | PTRN | School of Prophets | Prophecy Bookstore | Joshua Travel | About Dr. Jimmy DeYoung